It is Friday August 13. 2010 and I am following another Social Parade. Check it out at
Smart and Trendy Moms
.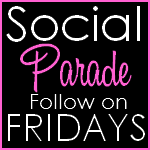 Let me tell you a few things about myself:
I am a proud momma of four beautiful kiddos
Abbi 9, Shane 5, Brady 2.5 and Cullen 9 months.
I am a full time nurse in the OR.
I have been married to my husband for 14 yrs.
I have been blogging since March.
My husband is starting to homeschool our kids this Fall.
I am addicted to Diet Coke.
So, there it is, a little about me. Thanks for stopping by and I hope you can follow my blog and I will be sure to stop by and follow your blog.